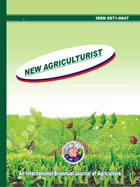 New Agriculturist : An International Bi-Annual Journal of Agriculture
Aims and Scope
New Agriculturist An International Bi-Annual journal published by Bioved Research Society, Allahabad,U.P., India located at Bioved Research Institute of Agriculture & Technology, 103/42 M. L. N. Road, Allahabad-211002, U.P. The journal is committed to promote growth and development of the Agriculture. All aspects of crop and animal physiology, modelling of cropping the agronomy, husbandry, engineering solutions, decision support systems, land use, environmental impacts of agriculture and forestry, impacts of climate change, rural biodiversity, experimental design and Bio-statistical analysis, the application of new analytical and study methods (including molecular studies). And all other related fields. Research Paper Review Articles/ Short communication /Book Review related to agriculture are being published in the Journal.
The journal started in 1990 and so far 24 Volumes have been published covering about 2200 research papers.
How to Subscribe